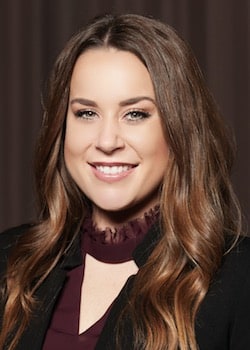 Taylor D. Clay, J.D.
Director
NC State Board of Legal Specialization - Family Law Specialist
Woodruff Family Law Group Attorney, Taylor D. Clay has been practicing family law since 2012. Taylor was also certified by the NC Bar as a Family Law Specialist in 2018. Currently, Taylor focuses on divorce and child custody cases within family law. Of course, the idea of becoming an attorney was in her blood.
"My father is an attorney and I watched him practicing law growing up. I truly admired him and wanted to be just like him. I saw how helping people through the practice of law gave him meaning and purpose in his life and I wanted to embody that myself."
Taylor decided to dip her toe in the world of family law by interning at Woodruff Family Law Group. She soon recognized her calling.
"Well, I knew I would never be bored! I interned with the Woodruff Family Law Group the summer after my first year of law school. I realized that people are in their most vulnerable state when seeking the help of a family law attorney. I wanted to help people at one of their lowest points."
One of Taylor's favorite sayings is, "The sweet just ain't as sweet without the bitter." In many ways, this speaks to the real-life challenges her clients have endured to get from the worst moments to the start of their new life.
"I am aggressive when it comes to advocating for my client. However, I also feel like I can advise my client when to come to a reasonable settlement that is in the best interests of all parties involved."
When it comes to the issue of child custody, Taylor stays focused on what is in the best interest of the child.
"We focus on that aspect, plus any other aspect of the child's life, including health, education, social interaction, religion and any other aspect that is important to my client, from a parent's perspective. Additionally, I work together with my client on a custody schedule for both my client and the other parent, if that parent is fit to have time with the child. In some cases, we are able to work out an entire custody schedule without the involvement of the court. However, in other cases, we seek the assistance of the court to order a custodial schedule."
Taylor fits in well with six other savvy attorneys whom each bring experience, insight, and diligence to work on each client's behalf.
"With seven family law attorneys, each of us has something of value that we bring to the table every single day. If we didn't, we wouldn't be here. We are here to help better our clients' lives. I look at my role as working hard for my clients and helping them get through one of the most difficult times in their lives. I am here to show empathy for their situation, but to also take the emotion out of the situation in order to resolve it in the most efficient way possible."
Dogs or cats?
Dogs
Favorite Saying:
"Don't threaten me with a good time."
Favorite Music Group:
Fleetwood Mac
Guilty Pleasures
Wine
Education
J.D., University of North Carolina at Chapel Hill School of Law, Chapel Hill, NC, 2012
B.A., Business Management, North Carolina State University, Raleigh, NC, 2009
Jurisdictions Admitted to Practice North Carolina, 2012

Legal Specialties and Certifications
North Carolina Bar, Board Certified Family Law Specialist, 2018