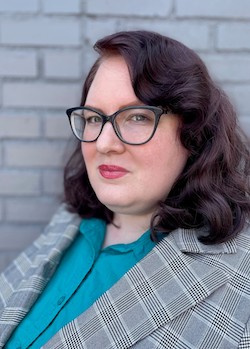 Samantha S. Erks, J.D.
Family Law Attorney
Samantha S. Erks (Sam) is a graduate of Wake Forest University School of Law. She has a Master of Arts in Bioethics from Wake Forest University, where she did her thesis on the ethical implications of full genome sequencing in healthy populations. She grew up in Burlington, North Carolina.
At Woodruff Family Law Group, Sam helps clients with family law matters, including divorce, child custody, and support. With her background in bioethics, she brings an understanding to her practice of law that encompasses surrogacy, assisted reproductive technology, and working with gamete donors. Issues that Sam considers include anonymity, visitation rights, and third-party custody.
She is a classically trained vocalist who sang with the Wake Forest Concert Choir and Collegium Musicum. She spent a week touring in Ireland, singing Irish and classical music in the Galway Cathedral with her choir. While at Wake Forest, other activities she pursued include the Leadership and Character Debate Team, independent research with the WFU Research and Creative Activities Center, and a study abroad program in Vienna, Austria.
Her previous work experience includes two years working in Georgia with the Special Appointed Attorney General for Cherokee County. She represented the Department of Family and Child Services in foster care cases.
Hobbies
Sam enjoys Dagorhir, a medieval combat sport with events held in sites all around the country. She does costume design and production for her team. She has performed at DragonCon as Janet in "The Rocky Horror Picture Show" and served on the backstage team as a costume designer.
Her 'Purralegal" is a cat named Molly, who has been with her since 2015. Molly can often be found behind the scenes during Zoom conferences.
Inspiration
Sam is inspired by her grandmother, an oncology and hospice nurse who helped found the Cancer Center at Alamance Regional Hospital. Her grandmother retired from the Office of Human Research Ethics at the University of North Carolina, which led to Sam's work in bioethics and the law.
Interview With Sam
How Do You See the Intersection of Bioethics and Family Law?
"Today's family structures can be different from what the law was written to accommodate. There are concepts in bioethics called 'the right to an open future', which is very applicable to family law. For example, using genetic design, can you design your child to do what YOU want them to do? Should parents be making choices that limit their child's future? Emerging medical advances produce questions that need to be asked in the family law setting."
Education
J.D., Wake Forest University School of Law, 2018
M.A., Wake Forest University, 2018

Bioethics
B.A., Wake Forest University, 2015

Political Science and Philosophy with a Minor in Sociology