Randolph County
10/22/2020
Administrative Order re Guilford Courthouse Closure
---
08/04/2020
Custody Mediation Orientation ZOOM Form

---
05/12/2020
From: Blake, Tiffany G. <Tiffany.G.Blake@nccourts.org>
Sent: Tuesday, May 12, 2020 4:52 PM
Subject: Custody Mediation Orientations for May and June 2020
Importance: High
Good afternoon, I have received several voicemails the past few days for Orientations for May 28 and into June inquiring if the Orientation is in person. At this point in time, all May and June Orientations will be ONLINE. There will be no in person Orientations in May or June. Fortunately, I have plenty of space availability in the online CMO's and this is as adequate and accommodating as possible given the circumstances. For your clients who need to participate in the CMO, please have them email me at this email address or you can also forward me their email addresses and we will send the link and instructions to them via email. It is imperative that we get that email information as quickly as possible as I send out the link a few days in advance.
If for any reason an individual is unable to participate in the online CMO please contact me directly and we can discuss other options and solutions to continue advancing cases during this time.
Additionally, if I have missed anyone on this email list, please feel free to share amongst colleagues in an effort to get the word out.


Tiffany Blake, MSW, LCSW
Custody Mediator
19B Randolph & 19D Moore
North Carolina Judicial Branch
O 336-328-3274
Justice for all
www.NCcourts.gov
E-mail correspondence to and from this address may be subject to the
North Carolina public records laws and if so, may be disclosed.

---
05/07/2020
Remote Hearing - Consent Request
---
05/06/2020
Remote Hearing Procedures in Domestic Court
---
05/05/2020
Notice of Custody Mediation Orientation
---
04/28/2020
Remote Hearing Procedures in Domestic Court
Request for Remote Hearing (form)
Notice of Remote Hearing (form)
---
04/23/2020
ADMINISTRATIVE ORDER ADOPTING TEMPORARY LOCAL DOMESTIC RULE
JUDICIAL DISTRICT 19B - FAMILY COURT RULES - TEMPORARY DOMESTIC RULE 4
NOTICE OF HEARING AND CERTIFICATION OF JUDICIAL ASSIGNMENT
---
04/16/2020
ADMINISTRATIVE ORDER ADOPTING TEMPORARY LOCAL DOMESTIC RULE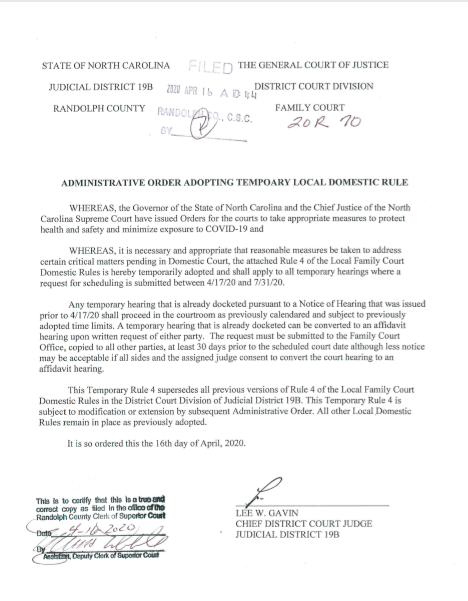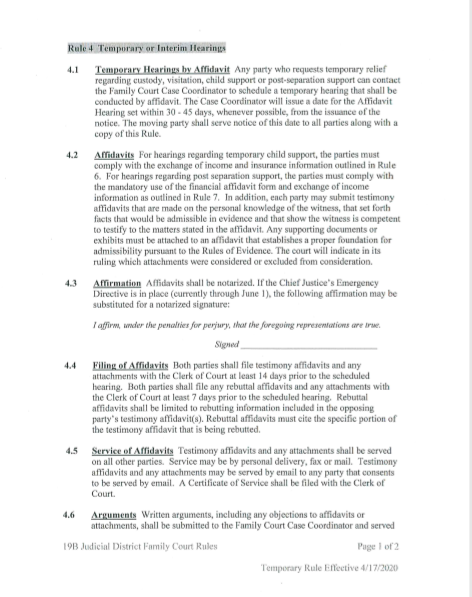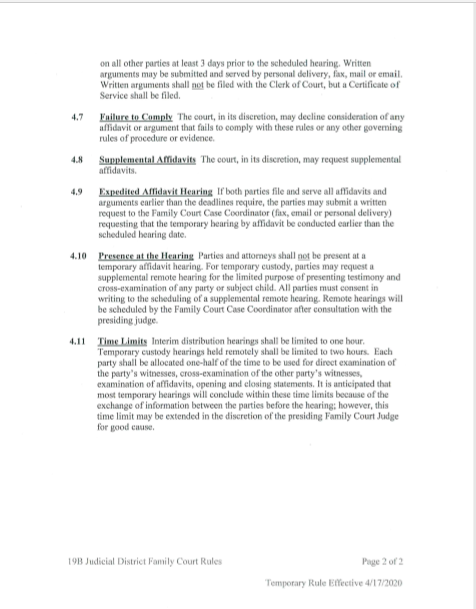 ADMINISTRATIVE ORDER FOR SUMMARY DIVORCE JUDGEMENTS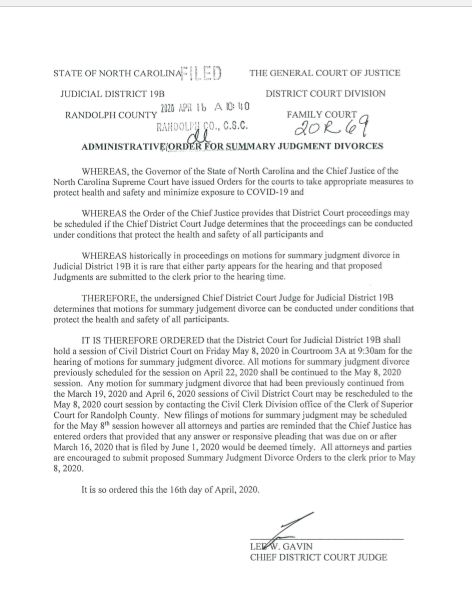 ---
04/03/2020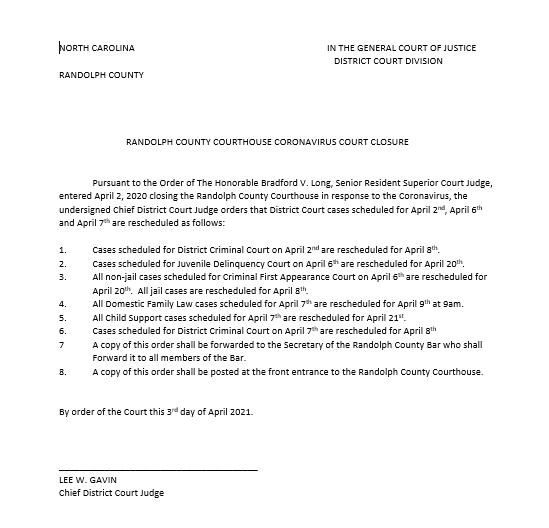 ---
03/31/2020
Update from Tiffany Blake, Custody Mediator:
I would like to let you all know that we have a new Custody Mediation Program Assistant, Chasity Chen. Chasity's typical hours are Monday-Friday 9am-1pm. Right now we are limiting our in office time but when we get back to normal, you may reach her during those hours.

Chasity's email address is chasity.d.chen@nccourts.org and her office number is 336-328-3274. Please feel free to start using Chasity as your point of contact for both Randolph and Moore Counties.
---
03/27/2020
See below concerning Parenting Under Two Roofs.
"We will start providing a staff lead on-line training starting Friday April 3rd, with the rest of the schedule to follow.
Participants will be able to sign up on our website as they did for our face-to-face classes. We will contact participants that have had a class cancelled to give them first chance to sign up for one of the on-line classes.
Please let me know if you have any questions."
Contact for Parenting Under Two Roofs:
Stella Lewallen MA QP
Parent Education Program Supervisor
Children's Home Society of NC
1-800-632-1400
slewallen@chsnc.org
Direct: 336-553-9703
---
03/24/2020
In an effort to comply with the recommendations and directives regarding staff and public health, the Family Court Staff will be maintaining limited office hours and working remotely as much as possible.

Effective immediately, the Family Court Office will be open from 9:00 a.m. – 12 noon every business day. We cannot admit anyone into the office at this time, but you can drop off papers or communicate with us via the telephone adjacent to our office. If the office is closed, you can submit papers under the door.

You can reach staff by telephone between the hours of 9:00 a.m. – 12 noon at 336-328-3293.

You can reach staff by email during normal business hours of 9:00 am – 5:00 pm at:
We are in the process of rescheduling all domestic cases that have been continued by the court. We appreciate your patience as we try to address each case individually. Please feel free to contact us if you have any questions or concerns about a particular case.



Nancy M. Butler, J.D.

Family Court Administrator
Judicial District 19B

North Carolina Judicial Branch

O 336-328-3292
F 336-328-3184


Justice for all
---
03/17/2020
Family Court will be open at 9:00am on Tuesdays to address the following cases: Returns on Ex Parte Child Custody Orders, TROs, First Appearances on Contempt Motions.

All other cases will be rescheduled. Family Court is available by phone and email to reschedule your cases. Please try to limit coming to the Family Court office as much as possible.
03/16/2020
Dear Randolph County Custody Clients,
There is an online option for Custody Mediation Orientation. You should avail yourself of this online orientations to continue the process of your case.
***Please follow the link below to complete the self-directed Custody Mediation Orientation.