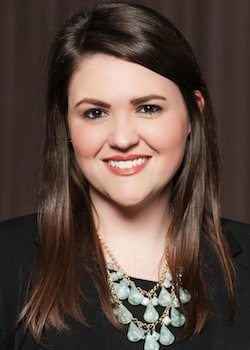 Leesa M. Poag, J.D.
Associate Attorney
Attorney Leesa Poag, has been practicing law since 2013. When asked why she chose family law as a concentration, Leesa says: "I wanted to practice in an area that would afford me the opportunity to really interact with clients and get to know them on a personal level. When someone is in need of a family law attorney, it is typically a very difficult period in their life. I wanted to be able to help people during these times."
Family Law is one of the most complex practice areas an attorney can choose. "I think the hardest things for clients to understand is that each case is different. Though all of our clients have family law issues, every case presents new and different challenges, and clients have different objectives and goals. There really is no "typical" case. Each case really is a process, and though clients often want issues resolved immediately, it takes some time to work through all the issues in the case to achieve the best outcome. Personally, I think the most important role we play as lawyers is as an advocate. When someone is in need of legal services, it is usually in very stressful and difficult situations. I think it is imperative that, in these times, clients know that we are doing everything possible to advocate for them to get the best possible outcome for their case."
Dogs or Cats? "I have two dogs, Atticus and Finn."
Favorite Saying? "Go into the world and do well. But more importantly go into the world and do good."
Guilty Pleasure: "Chic Fil-A"
Education
J.D., Campbell University School of Law, Raleigh, NC, 2013
Dean's Merit Scholarship, Book Award-"Professional Responsibility and Ethics" Mock Trial Team National Trial Competition-regional champion Order of the Barristers American College of Trial Lawyers Medal of Excellence in Advocacy
B.A. - Political Science, University of South Carolina, 2009
Dean's Honor List President's Honor List Alpha Lamda Delta National Honor Society Epsilon Sigma Alpha
Jurisdictions Admitted to Practice North Carolina Bar, 2013

Professional & Bar Association Memberships
NC Bar Association
Member Since: 2013