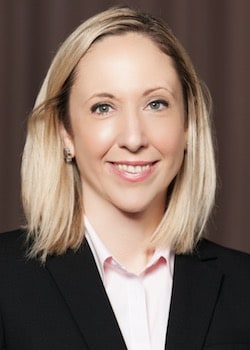 Jessica S. Bullock, J.D.
Director
NC State Board of Legal Specialization - Family Law Specialist
Jessica S. Bullock has practiced family law for more than 8 years. In 2014, Jessica was certified by the North Carolina State Bar as a specialist in Family Law. She is one of 239 lawyers state-wide to achieve this distinction. Ms. Bullock, a Director at Woodruff Family Law Group and with the firm since 2008, concentrates her legal practice in the areas of child custody and appeals. Jessica received her BA degree in Business Administration from the University of Mary Washington and her JD degree from Campbell University School of Law.
Ms. Bullock's thoughts on:
Child Custody
'No two custody cases are the same. It is my responsibility to understand the dynamics of my clients' situations so that together we can develop a case plan to achieve their goals. Custody cases can be very complex and very emotional. I make it a goal in each custody case to help guide my client through the process in a way to minimize their stress. Litigation over children is never easy, but I am here to advocate for my client and what is the children's best interest.'
Appeals
'The appeals process is time sensitive. What I mean by this is that you have a specific and very limited amount of time to file your appeal. There are a multitude of intricate deadlines in order to pursue an appeal of a family law order effectively. Therefore, if you are considering appealing an order, please meet with an attorney as soon as possible. In fact, consider this. Taking proactive measures as soon as you see an issue can make all the difference.'
Understanding the Law
'The law can be a very powerful tool if used correctly. However, sometimes what you think is fair is not what the law is. For example, it is hard for people to comprehend that if one spouse has cheated on the other, he or can she still get one-half of the marital property.'
Family Law Attorney
'I like to think that I am someone who will guide my clients through the legal process and empathize with each client's situation. I think a part of being a good attorney is being a good listener. The more I know about what my client is going through, the better I become at representing each of my clients and achieving their goals. My goal is to have my clients feel comfortable with me. These men and women are already going through a tough enough time when they take the first step to come share their circumstances. They certainly do not need to feel uncomfortable coming to talk with me.'
What is the best part of your job?
'The best part of my job is reconnecting with a former client who is doing great and thriving in their new living situation.'
Education
J.D., Norman A. Wiggins School of Law (Campbell), 2008
Honors and Activities: Delta Theta Phi, NC-AAML Oustanding Family Law Student Award (2008), Westlaw Student Advisory Board, Member of Women in Law, Actual Innocence Project, Book Award - Trial Advocacy, Recipient of the Order of Old Kivett Award (Advocacy), Thai Team Member
VA B.S. Business Administration, University of Mary Washington, Fredericksburg
B.A., University of University of Mary Washington, 2003
Honors and Activities: Honors Admission, Dean's List, Student Leader Award Nominee 2003
Jurisdictions Admitted to Practice North Carolina, 2008

Professional & Bar Association Memberships
North Carolina Bar Association
Member Since: 2008
18th Judicial District - Bar Association
Member Since: 2008
Family Law Section
Legal Specialties and Certifications
North Carolina Bar, Family Law Specialist, 2014.
Featured Cases and Matters
King v. King, NC COA 13-1075, 2013
Represented appellee, appeal dismissed successfully as interlocutory.
Gordon v. Gordon, 13-937 NC COA, 2013
Co-counsel representing appellee. Affirmed.
Williard v. Williard, 12-931 NC COA, 2012
Co-counsel representing appelle. Affirmed.
Gordon v. Gordon, NC COA 12-1121, 2012
Co-counsel representing appelle. Affirmed.
Ludlam v. Miller, NC COA 12-637, 2012
Co-counsel representing appellant. Affirmed in part - Reversed in part.
Non-Legal Activities
Captain Green Eyes Dance Troupe: The Salvation Army Boys & Girls Club
Men Can Cook: Women's Resource Center
Big Hair Ball: Family Service of the Piedmont, Inc.
JDRF Hope Gala: Type 1 Diabetes
Riding Horses
College Basketball fan